Labels
Biobank SQAN
INTEGRATING THE CRITICAL SUCCESS FACTORS OF A BIOBANK
To support biobanks in the development of their Governance and Quality strategies, Swiss Biobanking Platform has developed the biobank SQAN, the biobank Solution for Quality Assessment and Normalization, an innovative web-based solution including the essential biobanking key components successful biobanks have to integrate.
This interactive web-based solution is a powerful tool to support biobanks strengthen and harmonize their practices. It will provide valuable support to the community by:
Evaluating and monitoring biobanks' practices
Preparing biobanks to the ISO standards on biobanking 20387:2018
Harmonizing practices to increase quality
Participating to biobanks' education on governance and quality
Promoting biobanks' visibility through SBP and BBMRI directories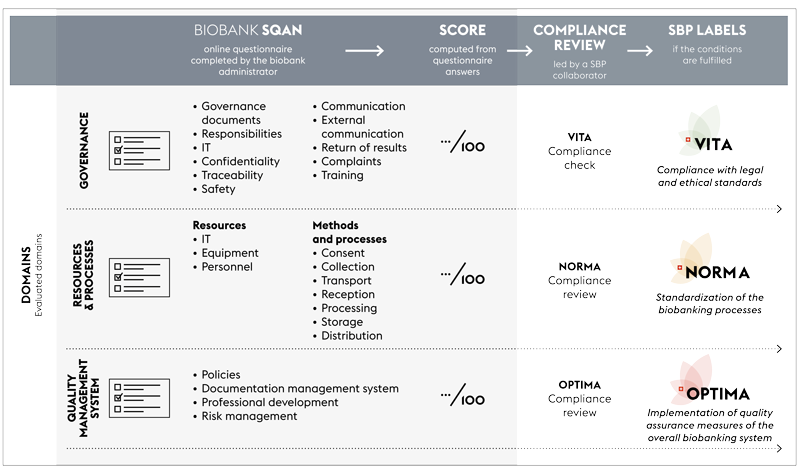 What are the documents at the basis of the online questionnaire?
The scoring on Governance is based on defined criteria from the applicable ethical/legal framework:
Human Research Act (HRA), 30 September 2011
Human Research Ordinance (HRO), 20 September 2013>
Declaration of Taipei (WMA), October 2016
European Recommendation on research on biological materials of human origin (CM/Rec(2016)6) of 16 May 2016
The scoring on Quality is based on defined criteria from Good Biobanking Practices and professional standards:
OECD guidelines for biological resources centres, 2007
IARC guidelines for biobanks, 2017
ISBER recommendations for repositories, 2018
NF S 96-900 standard for the management of biological resources centres, 2011
ISO 9001 standard for the management of quality management system, 2015
ISO 20387:2018 standard – General requirements for biobanking
Based on biobank's answers, a score for each category (i.e. Governance, Processes & Resources, and QMS) is calculated.
What do these scores mean ?
The Governance management score shows the degree of compliance with the law and the respect of ethical considerations. It ensures that the biobank has a proper governance in place with trained personnel and a good management of regulatory requirements (e.g informed consent, EC approval, biobank regulation, Material Transfer Agreement (MTA) when applicable).
The Process and resource management score shows the degree of conformity of IT infrastructure, equipment monitoring, and premises control. It ensures a good management of biobank operational processes, (from the consent presentation to the shipment of samples). This part of the evaluation investigates the quality controls, and the validation of methods.
The Quality assurance management score shows the degree of effectiveness of the biobank Quality Management System, including documentation management, non-conformities management, risk management, and the implementation of appropriate preventive/corrective actions.
The compliance review allows SBP to propose customized supports and recommendations to biobanks according to the needs that were identified.
At the end of the process, labels can be awarded. They reflect the compliance level of the biobank with the minimal requirements set by SBP in terms of governance and quality.
Vita Label: Compliance with law and ethical standards
Norma Label: Standardization of the multiple biobanking processes from consent presentation to sample shipment, including personnel and equipment management
Optima Label: Optimization of the overall biobanking management system with focus on the implementation of quality assurance measures