Tool
Biobank SQAN
INTEGRATING THE CRITICAL SUCCESS FACTORS OF A BIOBANK
To support biobanks in the development of their Governance and Quality strategies, Swiss Biobanking Platform has developed the biobank SQAN, the biobank Solution for Quality Assessment and Normalization, an innovative web-based solution including the essential biobanking key components successful biobanks have to integrate.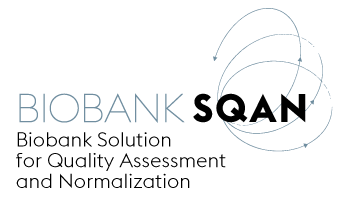 This interactive web-based solution is a powerful tool to educate biobanks and strengthen their practices. It will support the community on key topicsincluding:
Biobanks education on governance and quality aspects
Evaluation and monitoring of biobanks/ biobank infrastructures
Promotion of visibility through SBP and BBMRI directories
Building trust between biobanks and SBP
Answering the questionnaire is the first step to join SBP network.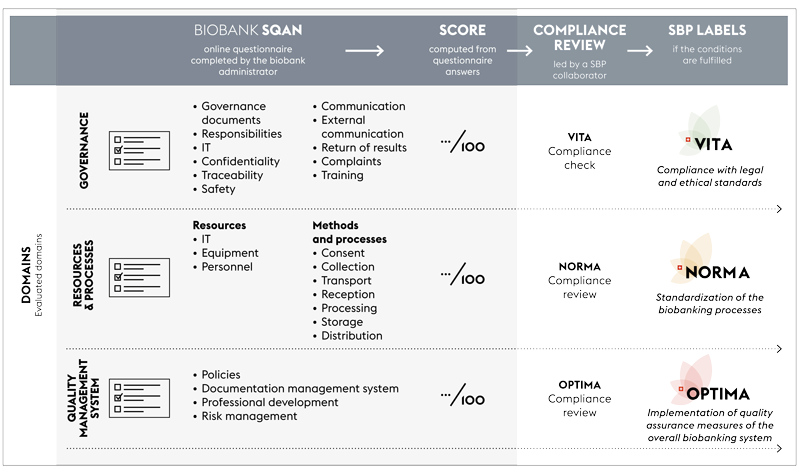 The questionnaire is made of ~250 questions covering multiple fields of biobanking: 1) Governance 2) Resources & Processes and 3) Quality Management System (QMS).
SBP proposes three labels (i.e. Vita, Norma and Optima). Each label addresses specific SBP requirements:

Vita Label: Compliance with law and ethical standards
Norma Label: Standardization of the multiple biobanking processes from consent presentation to sample shipment, including personnel and equipment management
Optima Label: Optimization of the overall biobanking management system with focus on the implementation of quality assurance measures
The "Governance" part of the questionnaire is accessible to all SBP stakeholders while the other parts become accessible once the biobank joins SBP network (i.e. Vita label awarded).
Based on biobank answers, a score for each category (i.e. Governance, Processes & Resources, and QMS) is calculated. This score reflects the biobank compliance level with the ethical/legal requirements for the Governance part and with the professional standards (e.g. ISO 20387:2018) for the Quality parts. The score is then translated into labels after the biobank has been through a compliance review, which ensures the validation of the provided answers.
The review allows SBP to propose action plans and supports to help the biobanks reaching the label they have chosen.
The analysis of collected answers will allow SBP to identify the needs and develop tailored services to serve our biobank community accordingly.