SBP Events
Swiss Biobanking Platform (SBP) is an initiative of the Swiss National Science Foundation (SNSF) established as the national coordination and reference platform for biobanking activities in all fields of research. It responds to the needs of the research community in terms of coordination and harmonization of biobanking activities by increasing visibility and achieving high quality, transparency, accessibility and interoperability of biobanks. To achieve this, SBP provides a variety of services to the research community and access to BBMRI-ERIC as the Swiss node.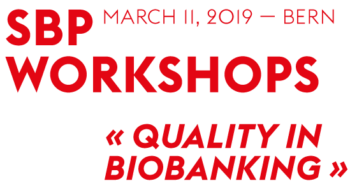 SBP and SNSF invite the research community to a Workshop on «Quality in Biobanking», March 11 2019 in Bern. The Workshop will specially be dedicated to identifying the necessary conditions to make data archiving and high sample quality possible and on how to achieve them. At the workshop, you will actively participate in shaping the future portfolio of SBP within the Swiss research landscape. 
> Full program and registration http://biobankingconference.ch
SBP presented its first conference on February 1st 2018 at the SwissTech Convention Center in Lausanne on the EPFL campus.  
This event featured international and national experts sharing their vision of the "Biobanking of the future".

Three panels of experts discussed new directions in state-of-the-art biobanking research. To meet current requirements, the scientific community biobanks need to tackle challenges including harmonized procedures, promotion of high quality standards or sustainability, all of them in the framework of their ethical, legal and social dimensions. The conference thus provided a forum for discussion around topics on next biobanking generation including focus on optimal usage of biological resources as well as present successful human and non-human biobanking research examples.
Other events
Tectoday — May 3rd 2018, Lausanne
Big data et santé, tous surveillés?
"Nos mouvements sont enregistrés et nos résultats médicaux sont de plus en plus numérisés. L'analyse informatique de ces données permet de faire progresser notre compréhension de la médecine comme jamais auparavant. Mais est-ce au détriment de notre vie privée? Une question autant technique qu'éthique ou encore économique."
Program
Accueil par Eric Fumeaux, vice-président de la SATW
Introduction par Christine Currat, directrice de la Swiss Biobanking Platform "Des bases de données biomédicales, pour quoi faire?"
Table ronde avec…
Christine Currat, directrice de la Swiss Biobanking Platform
Joy Demeulemeester, responsable politique santé à la Fédération romande des consommateurs
Solange Ghernaouti, professeur de cybersécurité à l'UNIL, membre SATW
Edouard Bugnion, vice-président de l'EPFL, membre SATW
Modération par Olivier Dessibourg, journaliste scientifique