Documents
Datasets Tissue and Liquid
SBP working groups composed of University hospitals' experts (see Liquid and Tissue WG composition) emphasize essential need of documenting all biological factors that are expected to have an influence on sample quality.
Thus, based on International Good Biobanking Practices, CEN specifications released by the European Commission for Standardization and Standard PREanalytical code released by ISBER (SPREC), the groups propose 2 preanalytical data sets (Liquid & Tissue), recommended to be used by all biobanks.
The datasets cover the different biobanking processes from sampling to retrieval and propose a common language to describe preanalytical attributes of samples. It also includes some health related data required for initial searches of suitable samples. Finally, it covers fields related to quality of biobanking processes.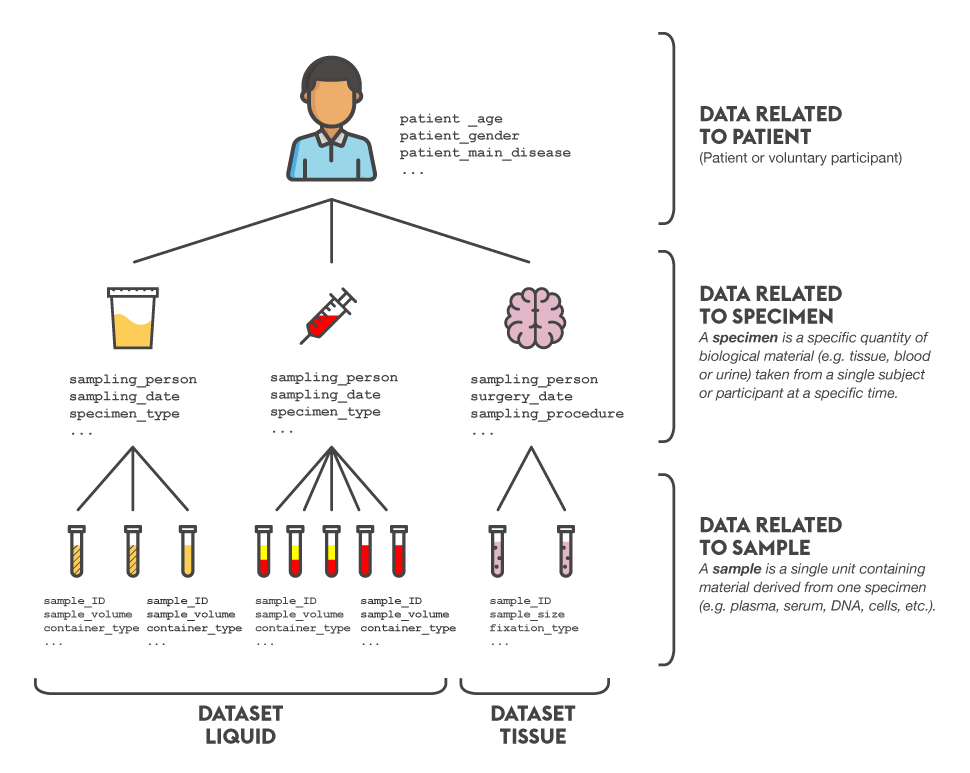 Sample quality
Define the essential preanalytical data that should be linked to samples
Raise awareness on biobanking processes

The detailed documentation of pre-analytical steps will allow biobanks to identify critical steps in their workflows, to monitor and improve their processes

Improve quality of samples

Once each step is documented, improvement can be measured
Harmonization & Interoperability
Define the essential health related data that should be linked to samples
Make samples from different biobanks comparable in their quality attributes
Allow researchers to be able to judge the fitness-for-purpose of samples for their planned downstream applications.
Promote exchange
Visibility
Define the essential sample associated data that should be visible
Make samples searchable on a common database
Enhance visibility
Consultation
The consultation has closed on January 31 2018.
More detailed information on the work done by the WG, their recommendations and on the datasets themselves can be found in the respective WG reports.