Join the SBP workshops about "Quality in Biobanking"
SBP and SNSF invite the research community to a Workshop on «Quality in Biobanking», March 11 2019 in Bern. The Workshop will specially be dedicated to identifying the necessary conditions to make data archiving and high sample quality possible and on how to achieve them. At the workshop, you will actively participate in shaping the future portfolio of SBP within the Swiss research landscape. 
Please register to this Workshop until March 1st 2019 and indicate the workshop you are interested to participate in. A web-based solution to help biobanks efficiently identify areas and means of improvement
BBMRI Swiss Node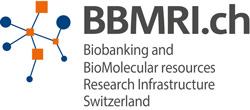 SBP, an independent association funded by the Swiss National Science Foundation (SNSF), is the national node in the European network called BBMRI (Biobanking and BioMolecular resources Research Infrastructure).
SBP is the intermediary between Swiss biobanks and European countries through this network.
How-to
Create or improve my biobank
SBP is developing tools, documents and services to assist your biobank in complying with the essential requirements to process, store and distribute your samples.
The Biobank SQAN  is the entry point in evaluating your needs for the following: