Swiss Biobanking Platform and Swiss Personalized Health Network: publication of two key documents for researchers
Swiss Biobanking Platform and Swiss Personalized Health Network have worked in close collaboration to deliver Material Transfer Agreement and Data Transfer and Use Agreement templates to facilitate material and data exchange in the context of academic research projects.
The MTA and DTUA are key regulatory requirements that define the rights, responsibilities and obligations of the Parties involved (e.g. Provider, Recipient, Processor) regarding permitted use, ownership, publications, intellectual property and liability when biological material and/or data are being transferred or accessed in the frame of a project. A web-based solution to help biobanks efficiently identify areas and means of improvement
BBMRI Swiss Node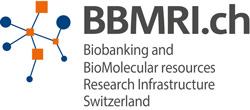 SBP, an independent association funded by the Swiss National Science Foundation (SNSF), is the national node in the European network called BBMRI (Biobanking and BioMolecular resources Research Infrastructure).
SBP is the intermediary between Swiss biobanks and European countries through this network.
How-to
Create or improve my biobank
SBP is developing tools, documents and services to assist your biobank in complying with the essential requirements to process, store and distribute your samples.
The Biobank SQAN  is the entry point in evaluating your needs for the following: