Swiss National Science Foundation has just launched its second BioLink Call!
BioLink is intended for investigators who wish to network their biobanks using IT systems. This harmonisation of the IT systems will result in the sharing of data so as to address well-defined, scientific questions. BioLink is open to all research domains. The biobanks are already established.
Grantees commit to collaborate with the Swiss Biobanking Platform and, in particular, to consult with SBP on the choice of their IT systems and to register in SBP's national biobank directory.
Letters of intent are to be sent by 16 July 2018
Toolbox
The SBP Toolbox is an innovative web-based solution integrating the critical success factors of biobanks and biobank infrastructures.
The word of the month

"Specimen"
A specific quantity of biological material such as tissue, blood or urine taken from a single subject or participant at a specific time.
BBMRI Swiss Node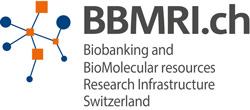 SBP, as an independant association funded by Swiss National Science Foundation (SNSF), is the national node in the European network called BBMRI (Biobanking and BioMolecular resources Research Infrastructure).
SBP is thus the intermediate between swiss biobanks and the European countries through this network.
How-to
Create or improve my biobank
SBP is developing tools, documents and services to support your biobank comply with the essential requirements to process, store and distribute your samples.
The SBP Toolbox is the entry point to evaluate your needs in terms of the following issues: