We'll be present at the Europe Biobank Week in Lübeck. We are looking forward meeting you all. Come and have a coffee with us at booth #48!
We'll also present posters on October 9th, 4-5pm
SBP labels as an incentive for Swiss biobanks' fundings?
Presenting author: Sabine Bavamian — SBP Chief Scientific Officer
Quality strategy developed by Swiss Biobanking Platform
Presenting author: Joséphine Uldry — SBP Quality Officer
Launching of the SBP e-catalogue: how to federate users and promote scientific collaboration?
Presenting author: Julien Virzi — SBP BIMS Project Manager A web-based solution to help biobanks efficiently identify areas and means of improvement
BBMRI Swiss Node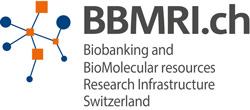 SBP, an independent association funded by the Swiss National Science Foundation (SNSF), is the national node in the European network called BBMRI (Biobanking and BioMolecular resources Research Infrastructure).
SBP is the intermediary between Swiss biobanks and European countries through this network.
How-to
Create or improve my biobank
SBP is developing tools, documents and services to assist your biobank in complying with the essential requirements to process, store and distribute your samples.
The Biobank SQAN  is the entry point in evaluating your needs for the following: