 We

promote the exchange and the use of biological samples
Once

the sample

-related data from different biobanks are comparable and searchable, researchers can assess the samples suitability for their projects. 



Interoperability strategy
Relevant sample data needs to be documented in a standardized way to become comparable and searchable. Biobanks are under ever growing pressure to improve documentation of samples and processes.  
What are our means of facilitating Interoperability?
SBP currently makes available several datasets that will soon be revised and integrated in a new Biobank Information Management System (BIMS) to provide an adaptive and interoperable solution to biobanks. 
Follow the developments
Read our related newsletters
« Finally a sample life cycle management tool (BIMS) that will be flexible, intuitive, promote standards and affordable to answer all your research needs. A great way to speed up discoveries! »
Raphaël Colsenet — IT Solution Architect, SBP Consultant
Datasets
A new representation of SBP Datasets aims to assist biobanks in their implementation and to facilitate their integration into the future SBP BIMS.
Datasets v1.0
5 datasets exist for tissue and liquid samples derived from human and animals.
National experts who took part to SBP Working Groups agreed upon a list of data required to be documented for each sample.   
Datasets v2.0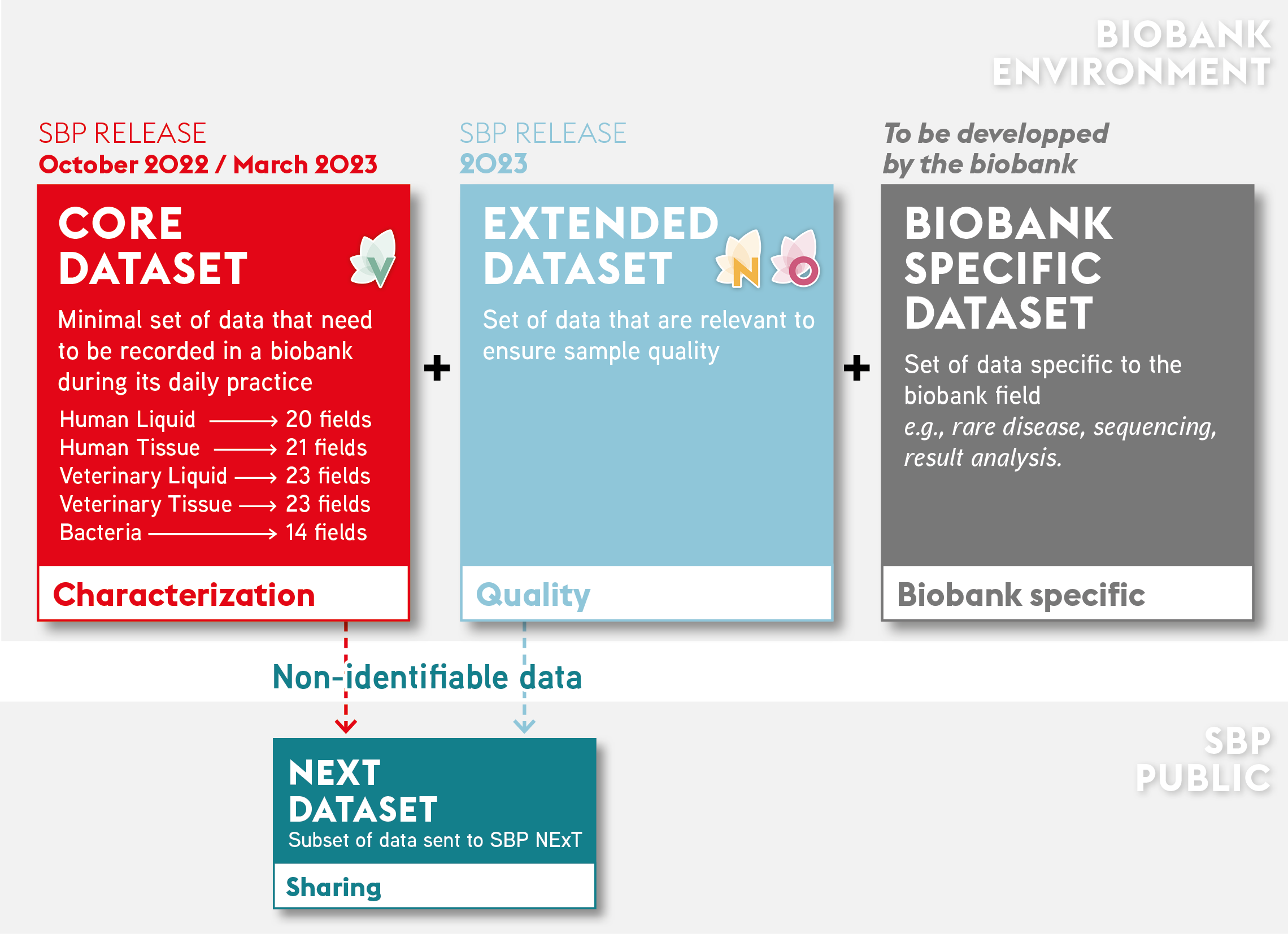 Core Datasets
The essential fields characterizing biobanked samples, the Core Datasets, have been discussed and agreed upon during this workshop bringing together biobanking experts.
The SBP Core Datasets v2.0 are intended to:
— Foster documentation
— Encourage the implementation through a step-by-step approach
— Support the development of the SBP BIMS
— Upgrade the revision of SBP Labels to promote interoperability
This revision is aligned with current SPHN interoperability activities.

Extended Datasets
The variables that were not retained by the different groups during the workshop will be further discussed at the next review cycle, which will be set up to define the Extended Datasets (planned in 2023).
BIMS
Engage

in the development

of

an adaptive solution

that will facilitate traceability and interoperability.
Thanks to our large network of biobanks, we are in the unique situation of understanding the various needs of biobanks of all sizes and scopes in Switzerland .
A new product, SBP SMPL, is currently under development with the aim to build a BIMS that would address the usual gaps for the use of Swiss biobanks. The goal is to establish a dynamic study design tool that enables a precise and meaningful representation of any given study protocol in the BIMS data flow.
Our system will offer a common basis for harmonization and sharing of information to all biobanks, regardless of their size, their affiliation to a university hospital and their level of funding.
The three
main advantages
of SBP SMPL:
Considerably affordable system in terms of cost and operation for better compliance with traceability and security requirements
Local support system for the establishment and monitoring of biobanks for rapid and available technical integration
Highly collaborative and harmonized system for better sample sharing